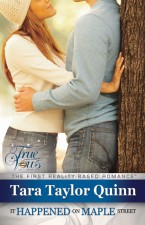 It Happened On Maple Street is my true life love story. Filled with heartache, heartbreak, abuse and tragedy, it's not your typical romance. But it does have a happy ending! Co-authored with my very first boyfriend, the first man I ever kissed, the love of my life - my husband - this is the detailing of our journey, told in story form. A portion of the book, the years we spent apart, is fictionalized out of respect and love.

I share this story at the request of others, in an attempt to let victims know they are not alone. That there is hope. And that love and happiness are possible for all of us.

It is through the experiences of my life that I gain the empathy and understanding to bring my heartfelt stories to you.